Not long now and we hope to have a foal by Imperial Valley. He is now available through the Damil Dressage station. Imperial Valley was bred to Lady Maxima by Millenium x King Arthur. The foal carries pure Trakehner blood. These are the first foals by Imperial Valley to be born in 2023. Imperial Valley convinces by his absolute rideability and a top character. Lady Maxima already had an outstanding colt by Münchhausen in 2021.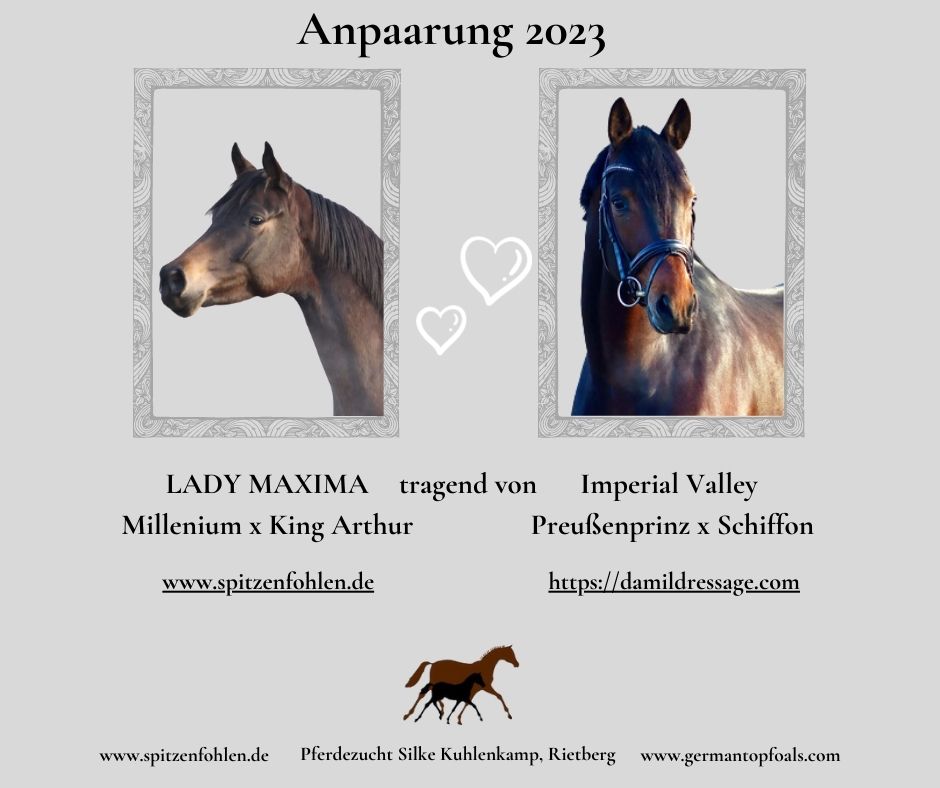 Trakehner Premium Stallion 2021, Trakehner Vice-Champion, with rare bloodlines
A type strong Trakehner young stallion of exceptional quality! He impresses with modern mechanics, movements that swing through the whole body, incomparable rideability and strength of character, size and impeccable foundations. Especially his extraordinary interior is fascinating. Even at a young age he shows great serenity and boundless willingness to perform. His character is marked by his friendly and always positive, honest nature and his uncomplicated manner. His outstanding rideability, his unconditional will to perform and his talent for movement make him the sporting hopeful of one of the most valuable mare families in Trakehner breeding. 
Imperial Valley left his licensing in 2021 as a celebrated premium stallion. 
His outstanding performance was commented by Breeding Director Lars Gehrmann with the following words: "in a completely natural turnout, without much packaging, this Danish young stallion showed himself to be one of the most complete representatives of the entire licensing year. The degree of looseness, light-footedness, tactfulness, movement mechanics, body balance and uphill tendency, combined with his clever overview, are talents that he was born with. At the same time he is correctly founded and well pointed in the course of his topline, with the best tripartition of the body."
Imperial Valley also confirms this success under saddle: still young in development, he became Trakehner Vice Champion of three-year-old stallions last year with top scores in all three gaits. Imperial Valley finished his disposition test in Schlieckau with top scores in rideability and willingness to perform.
Lady Maxima
Lady Maxima by Millenium x King Arthur is a beautiful and long-legged bay mare who always knows how to set the scene. Her movements are outstandingly ground covering and swinging and always connected with an elasticity. This suppleness she passes on to her foals. In 2021 she had her first foal by Münchhausen – a colt who has a great future ahead of him and was sold into appreciative hands.
In 2023 we hope for a similar foal by Imperial Valley.