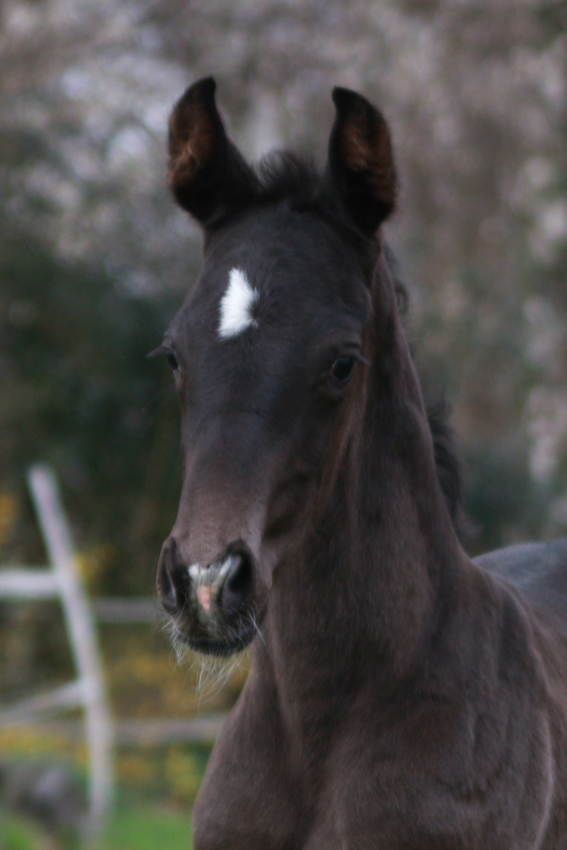 Born: 2021-04-02
Color: Black
Breeding area: Hanover
Breeder: Diane Nauman, Oregon -USA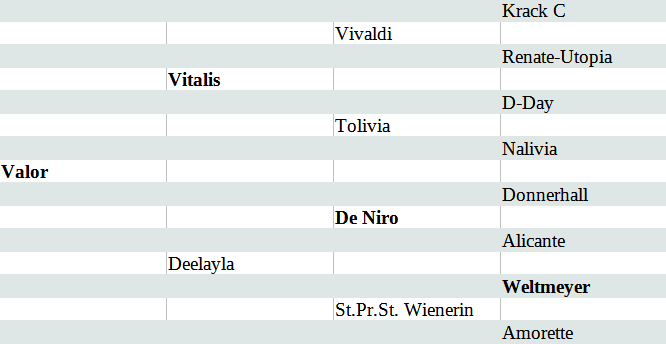 Valor is a colt in special livery. He has a star, a snip like Vivaldi and 3 white feet. His movements are phenomenal. His walk will take your breath away. With this pedigree, rideability is preprogrammed. He already has very successful half siblings.
Deelayla is an elegant black mare from the best dam line. She combines the best German dressage bloodlines. She has been highly successful in sport, not only in dressage but also in jumping and cross-country competitions. She is characterized by her top character, which she also passes on to her foals. Deelayla is used in breeding due to injury.
In 2013 she had a filly by Spörken. "Skuderia" took an outstanding SLP as a 3-year-old in 2016 and is placed 2021 Dressage M**
In 2015 Deelayla got a top colt by Livaldon which placed 5th at the German Foal Championships in Lienen after a dream round and top scores.
In 2016 she got a black colt by Bon Coeur from W.M. Stud, who was sold to a Swiss stallion raiser.
In 2018 Deelayla got a colt Dream Boy. He is the 4th best colt at the German Foal Championships in Lienen!
In 2019 she also got a colt by Dream Boy. A chocolate chestnut as he could not have been painted more beautiful.
In 2020 Deelayla gave us a black filly by Apache. She will enrich our breeding.
Vitalis: His offspring have already reached Grand Prix arenas
They won again last year at all levels – the offspring of our Vitalis! The licensed stallion Va'Pensiero won the German and Hanoverian Championships of three-year-old stallions. Villeneuve, who is also a licensed stallion, qualified for the Nuremberg Burg Cup with Dorothee Schneider with a score of over 77 percent and finished eighth in the final after coming second in the preliminary class. Our stallion Valverde NRW secured his third title at the Westphalian Championships, came fourth at the German Championships and was selected for the World Championships for young dressage horses, which, however, could not take place due to the coronavirus pandemic. Vayron won the international Small Tour in Neumünster with Helen Langehanenberg with over 75 percent. Vamos Amigos was placed with Cathrine Dufour/DEN in the Grand Prix Tour of Aarhus/DEN. The licensed stallion Vaderland was bronze medallist at the Oldenburg Regional Championships, Violetta D was silver medallist at the Southern German Championships…
The number of Vitalis' licensed sons now amounts to 46, with the stallions mentioned above, Valverde (Champion Stallion, triple Westphalian Champion, German Champion and fourth at the World Championships for young dressage horses), Villeneuve (Reserve Champion, Vice World Champion, third at the German Championships and eighth in the Burg Cup), and Vaderland (Westphalian Reserve Champion, Regional Championships bronze medallist), clearly standing out. Valencia AS/Fabienne Müller-Lütkemeier was placed at the CHIO in Aachen. Van der Veen was also victorious in Small Tour with Carl Hedin/SWE. In 2016, Victoria's Secret became World Champion in Ermelo after winning the German Championships the year before. The Westphalian Champion Mare Vienna and the Rhineland Champion Mare Virginia K stand out amongst the 60 state premium mares. Vitalis' foals often reach top prices: the colt Vardy was sold for 120,000 Euros at the Oldenburg Elite Auction. Auctioned for 53,000 Euros, VIP was second top price at the Summer Mixed Sales in Vechta. In 2016, Vitalis won the Burg Cup final with Isabel Freese.