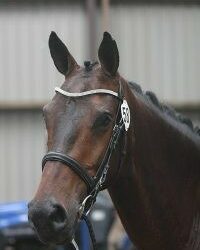 Born: 2006-04-16
Color: Dark Bay
Breeding area: KWPN
Breeder: A.A.M. Jansen, La Homoet – Netherlands
Owner: Diane Nauman, Oregon – USA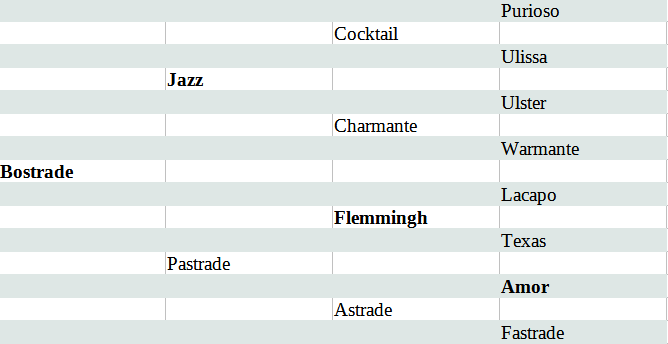 Offspring:
2021 – Filly from Raven
2020 – Colt from Dream Boy
2018 – Filly from Fidertanz
2017 – Filly from Guardian S
2016 – Filly from Guardian S
2013 – Colt from Rousseau
2012 – Filly from Davino V.O.D
Bostrade by Jazz x Flemmingh is a super beautiful bay mare out of an outstanding Dutch dam line. Bostrade by Jazz x Flemmingh is high decorated with Ster Prok Ibop from the KWPN Association. She combines the best Dutch dressage bloodlines. She has been highly successful in dressage up to medium level. She has a fantastic breeding value of 157! She comes from the Fastrade line, Merrielijn 142 and the breeder family 368. Bostrade by Jazz x Flemmingh her full brother Vic is licensed. She is characterized by her top character, which she also passes on to her foals.
She has already had a colt by Rousseau in 2012. "Happy Feet" is very successful in Poland and became Polish Youth Champion with a young rider!
2013 she got a filly by Davino V.O.D – Illustrade
2016 a filly by Guradian S – which was sold to a renowned stable in Holland. 2021 Levistrade is placed Dressage Class M
2017, she had another filly by Guardian S. Anky van Grunsven owns 50% by this outstanding stallion! Magicstrade
2018 she got an outstanding filly by Fidertanz. Ferrara qualified for the German Foal Championships in Lienen with dream scores.
2020 Bostrade gave us a colt by Dream Boy – a type without equal! Dream Dancer
2021 she got a filly from Raven – she tooks your breath away – Rajani
Jazz: This stallion has topped the dressage world rankings for years. For many stud books, he continues to provide phenomenal show horses, very many approved stallions and an abundance of fertile broodmares. In 2006 Jazz was voted "KWPN Horse of the Year". That was just the beginning of the accolades for this well-established stallion. In addition to winning the KWPN HOY Award, Jazz also received Kuer Preferent status, not only for his own Grand Prix performances, but also for the successes of his offspring. Jazz is descended from the legendary dressage stallion Olympic Cocktail. Olympic Cocktail was himself "KWPN Stallion of the Year" in 1995.
Jazz was ridden by the World Champion Anky Van Grusven. In 2001 Tineke Bartels made her Grand Prix debut with Jazz. In this year they won the "Grand Prix World Cup in Amsterdam" with 74,65%. In 2002 at "Zwollse Paardendagen" he reached the third place in the category "Best Stallion". In addition, Jazz was Indoor Champion at NBVR and excelled at the 2002 Olympic Games in Jerez, Spain. Jazz strongly transmits his qualities to his offspring. This is shown by the results in dressage. His oldest offspring compete at the Prix St. George level. He has several licensed sons such as Johnson, Don Juan de Hus, Boston, Wynton, Jazz Made, Tango, Don Olymbrio L, Broere Norway, Olivi, Riant, and Jazz Time – just to name a few.
Mother Pastrade was successful in dressage competitions up to class L and has a breeding value index of 114. She has had 12 foals so far, almost all of which are successful in sport, some up to advanced (S) level. She got the licensed VIC with the stallion Jazz, who is a full brother to Bostrade. Most of her fillies were awarded with the Dutch State Premium or as Elite Mare. These mares have also been successfully used in breeding again.
Flemmingh: The Holstein stallion Flemmingh by Lacapo-Carneval, was licensed in Holland and awarded the high distinction "pref". This name has become internationally accepted. No matter if Australia, America, Russia or Africa – everybody who is involved in dressage horse breeding knows this stallion.Due to an old injury, the condition of the 20-year-old bay stallion bred by H. C. Albertsen from Behrendorf had deteriorated so much that the owner, Dutchman Wiepke van de Lageweg, decided to put him out of his misery. At his stallion performance test in Holland, Flemmingh stood out especially for his good jumping. His offspring, however, have mostly excelled in the dressage ring. Flemmingh's internationally successful offspring include the Grand Prix horses Krack C (Anky van Grunsven) and Lingh (formerly under Edward Gal).