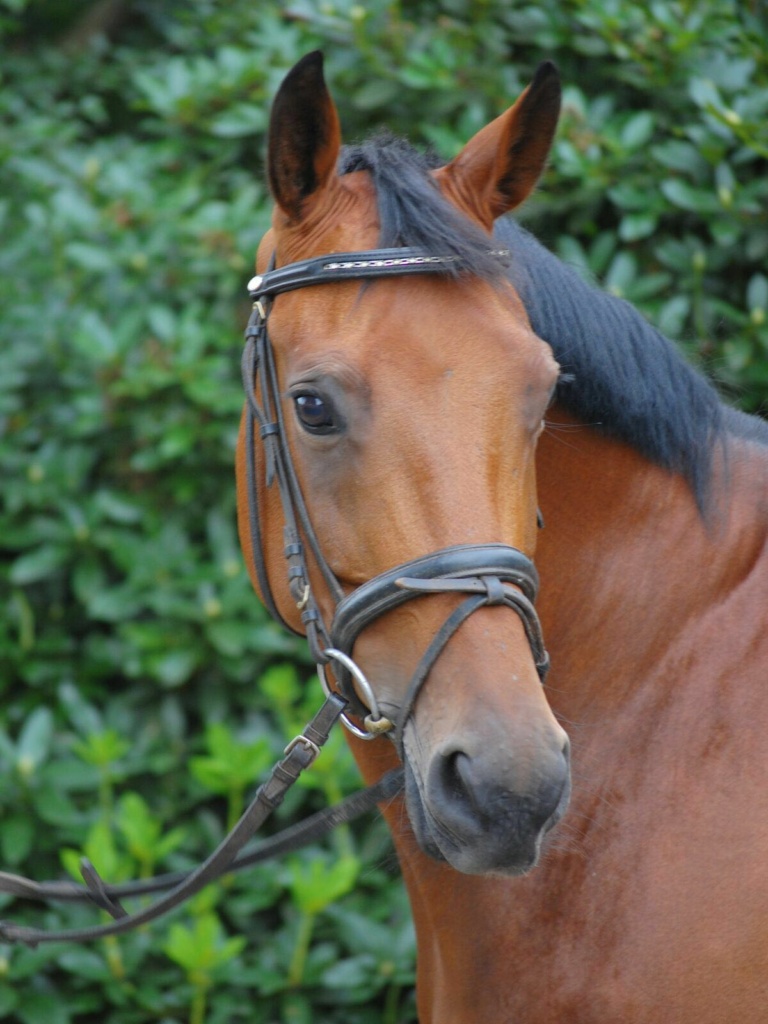 Born: 2007-06-30
Color: Brown
Breeding area: KWPN
Breeder: J. Lamers, Oss – Netherlands
Owner: Silke Kuhlenkamp, Rietberg – Germany
Offspring:
2022 – Colt by Glamourdale
2021 – Filly by For Romance I OLD
2019 – Filly by Jovian
2018 – Filly by Fürstenball
Jackie S by Jazz x Ferro
Jackie S by Jazz x Ferro is a super chic blood marked bay mare out of one of the best Dutch dam lines. She combines the best Dutch dressage bloodlines. The strain has a breeding value of 160! It is the well-known Daula strain Merrielijn 31 and breeder family 20 – Jackie S by Jazz x Ferro half sister is the dam of Janeiro Platinum (breeding station Schockemöhle, Mühlen)! https://www.horsetelex.de/horses/pedigree/1933201 The strain is very fertile and has already produced many highly successful horses. Jackie was first used in breeding in 2017.
2018 she had an outstanding filly by Fürstenball that could not have been more beautiful.
2019 she got an exceptional filly by Jovian, which qualified for the German Foal Championships in Lienen.
2021 she got a highly highly noble filly by For Romance I OLD, which knows how to present hertself every moment.
Stallion Jazz
Jazz: This stallion has topped the dressage world rankings for years. For many stud books, he continues to provide phenomenal show horses, very many approved stallions and an abundance of fertile broodmares. In 2006 Jazz was voted "KWPN Horse of the Year". That was just the beginning of the accolades for this well-established stallion. In addition to winning the KWPN HOY Award, Jazz also received Kuer Preferent status, not only for his own Grand Prix performances, but also for the successes of his offspring. Jazz is descended from the legendary dressage stallion Olympic Cocktail. Olympic Cocktail was himself "KWPN Stallion of the Year" in 1995.
Jazz was ridden by the World Champion Anky Van Grusven. 2001 Tineke Bartels made her Grand Prix debut with Jazz. In this year they won the "Grand Prix World Cup in Amsterdam" with 74,65%. 2002 at "Zwollse Paardendagen" he reached the third place in the category "Best Stallion". In addition, Jazz was Indoor Champion at NBVR and excelled at the 2002 Olympic Games in Jerez, Spain. Jazz strongly transmits his qualities to his offspring. This is shown by the results in dressage. His oldest offspring compete at the Prix St. George level. He has several licensed sons such as Johnson, Don Juan de Hus, Boston, Wynton, Jazz Made, Tango, Don Olymbrio L, Broere Norway, Olivi, Riant, and Jazz Time – just to name a few.
Mother Kulia from Ferro
Mother Kulia has already had some successful foals, some of which are in sport or are also used in breeding. Some of the female offspring have been awarded premiums. Kulia also produced the full sister to our Jackie S named Last Hope L. She is out of Merrielijn 31.
Grandfather Ramiro Z
Ramiro Z was the most important sire of Ramzes AA blood worldwide. He was born in 1965 at Gestüt Vornholz (Westphalia), where he had been sold in the womb, and remained the only foal of his dam Valine, who made a career in show jumping as Coralle. After his licensing, Ramiro covered for one year in Westphalia. Two Westphalian-bred but pure Holstein-bred top products resulted from this first year of breeding: The internationally successful mare Fatinitza 6 with Fritz Ligges and Thomas Frühmann and the licensed stallion Romanow, who lived to be almost 30 years old and was also internationally successful in show jumping. In 1969, Ramiro covered one season at the renowned Holstein station Siethwende, where he left behind outstanding mares, almost all of which became important in breeding, and three licensed sons.

Returning to Vornholz, Fitz Ligges took on the monumental stallion. With him, Ramiro was internationally successful, winning Grand Prix as well as power and time jumping competitions.
At times, the careers of Ramiro and his daughter Fatinitza ran parallel. It was not uncommon that both were placed in the same competition. In the 1974 season he covered a single mare. The product of this mating was an internationally successful licensed stallion: Rodney. Both in Westphalia and later in Zangersheide he produced top horses like from an assembly line: Among them Ramiros Girl and the Olympic horse Ramzes (both successful with Fritz Ligges). Ramira and Riva (both L. Gössing). The two-time Bundeschampionat winner Rosella G (L. Gössing and L. Beerbaum, respectively). Ralf 5 (Ulrich Meyer zu Bexten) and Rinnetou Z (P. Raymakers). Ratina Z (Olympic silver medalist in 1992 with P. Raymakers, World Cup winner in 1993, team World Champion in 1994 and team Olympic champion in 1996 with L. Beerbaum).
Along with Almé Z, Ramiro was one of the first "Euro stallions" ever. He lived to be 31 years old.

Licensed sons
Armstrong, Bernstein, Dageraad, Damiro, Elmero, Jacomar, Rabino, Radeberger, Radjah Z, Ramazotti, Ramalgo Z, Ramé Star, Ramé Z, Ramin, Ramino, Ramirado, Ramirez B, Ramiro As, Ramiro's Boy, Ramiro's Jack, Ramiro Son, Ramiro's Son I, Ramiro's Son II, Ramiroff, Ramiros, Ramirus, Ramiville, Ramonus Z, Ramos Z, Randel Z, Rangun B, Raphael, Raphaelo, Rascin, Rasputin, Rasso, Re Mexico, Rebel Z I, Rebel Z II, Rebel Z III, Renard, Renomee, Report I, Report II, Rescator, Rex Fritz, Ribot, Rinaldo, Rio Branco, Rio Negro, Ritual, Rival Z, Robin Z I, Robin Z II, Rocket Star, Rodney, Rolando, Rolex, Romanow, Romeo, Romantiker, Romino, Romulus Z, Ronald, Rotari, Rothschild J, Royal Flash Z, Royal Z I, Royal Z II, Zeoliet
Pedigree on http://www.allbreedpedigree.com/ramiro