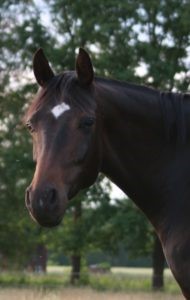 Born: 2013-03-14
Color: Black-Brown
Breeding Area: Oldenburg
Breeder: Hannelore und Eckhard Wittkopf, Großenkneten Germany
Owner: Silke Kuhlenkamp, Rietberg – Germany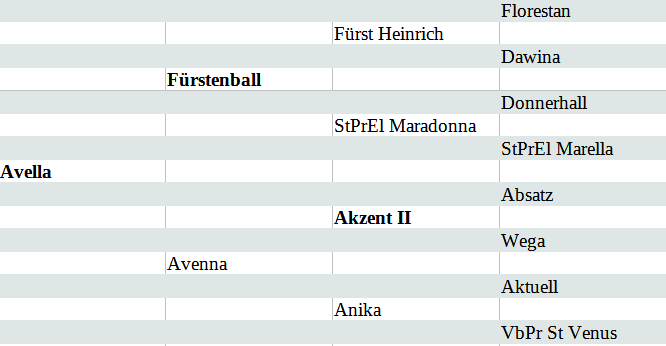 Offspring:
2022 – filly by Dynamic Dream
2020 – Colt by Franklin
2018 – Filly by San Amour
2017 – Colt by San Amour
Avella from Fürstenball
Avella by Fürstenball is a black-brown mare who knows how to present herself with very elastic movements. This quality of movement Avella by Fürstenball passes on to her foals. The Oldenburg damline is very fertile and has produced some good sport horses in recent years.
Her first foal in 2017 was by the stallion San Amour, whose conformation was excellent.
In 2018, she got a filly by San Amour, which is like the one on her face.
In 2020 she got a colt by Franklin who knows how to present himself in every moment.
In 2022 she got a filly by Dynamic Dream – we call her Dynamic's Beauty. Her name tells you everything.
Hengst Fürstenball
Fürstenball: Reliable producer of top foals, licensing winners and Grand Prix Champions
The offspring of Fürstenball OLD are victorious on all scenes! Heiline's Danciera won international Grand Prix dressage competitions with Carina Cassoe Krüth/DEN. Filigrano Marone/Thomas Wagner/GER and Friesen Ball/Andrea Timpe/GER also competed successfully up to Grand Prix. Frau Holle was silver medallist at the German Young Riders Championship with Jana Schrödter and competed in the Burg Cup final. ZINQ Farlana FH won the bronze medal at the German Junior Championships with Lucie-Anouk Baumgürtel. Feingefühl/Sandra Kötter won the Hanoverian Championships. Fürst Knight EDI/Natasja van den Bongaert/BEL won the bronze medal at the Westphalian Championships (4 y.o. stallions), as did Freddie Murcury/Dennis Georg (3 y.o. mares and geldings).
Fürstenball has produced 100 licensed stallions, including Fürsten-Look/Isabel Freese/NOR: our Champion Stallion and German Champion, who came third in the Burg Cup, Fürst Zonik PS: our Champion Stallion, Fürst Fabrice: Champion Stallion placed third at the Regional Championships, Follow Me OLD: Oldenburg Champion Stallion, Regional Champion and victorious at advanced (S) level, Facilone FRH: Hanoverian Champion and participant at the World Championships for young dressage horses, Faradai OLD: Regional Champion, Fürst Oliver: Hanoverian Champion and placed at the German Championships, and Fürst Magic: Westphalian Champion and victorious at Inter I level.
Other offspring are conquering the international scene, such as the double Young Riders European Championships gold medallist Four Seasons FRH, ridden by Alexa Westendarp. Fürst Sinclair/Elke Philipp came fourth at the Para-Equestrian European Championships in Rotterdam/NED. Also internationally successful is Torveslettens Fifty-Fifty/Ekaterina Podlytkina/RUS.