We are very much looking forward to our first foal by the stallion Secret from the Gestuet WM.
Our Bostrade by Jazz x Flemmingh has already given us many top foals. The anticipation for her Secret foal is huge.
Secret's offspring always know how to convince – beauty and sportiness are combined in his foals.
The combination of Secret x Jazz certainly leaves nothing to be desired.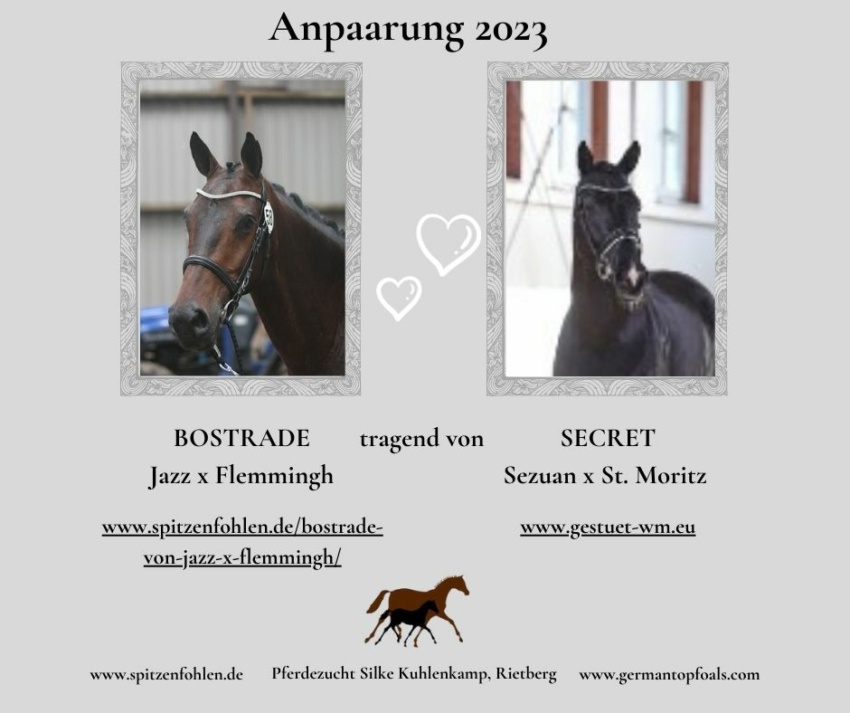 Secret this posh stallion was undoubtedly a very special addition to our station. Due to his outstanding type brilliance as well as his exceptional potential for movement. This son of the triple world champion Sezuan is an absolute exception. Three basic gaits in equal measure of high rarity value – step, trot and gallop of the highest quality. This stallion grew up very gently and causes open mouths from the first moment. Hard to beat rideability values complete this impressive model.
The very first appearance under the saddle caused a veritable hype far beyond the country's borders. Large advance laurels, which was to be confirmed. But even these high expectations fulfilled Secret effortlessly, as he finished with a dressage end note of 9.5 in Schlieckau. He was able to shine again at the Bundeschampionat in Warendorf. There where he was "only" voted Vice Bundeschampion due to the foreign rider scores. A thoroughly controversial decision, because of all the rideability values (Fremdreiternote & Richter) from Schlieckau. There with the grade 4 times the 10.0 rated, could not have been better.
Father Sezuan is a celebrated triple world champion of young dressage horses. Sezuan undoubtedly belongs to the most sought-after dressage horses of the present under Dorothee Schneider. Not to mention the upcoming future in the big square. Both his breeding and his sporting career is marked by highlights. Also in the course of his licensing and in the performances during the World Championships. Only scores between 9.5 and 10.0 were awarded for his basic gaits. Thus, he was the title of world champion of young dressage horses 5, 6 and 7 years old undisputed sure.
A recipe for success that is second to none – the Secret line's dam line, strain 853 of Sudette, produced numerous internationally recognized performance horses. In addition to this sire, there are already 38 more licensed stallions from this dam line. As a motherfather, we find St. Moritz, who in his unfortunately too short effect on the Gestüt W.M. He brought forth a whole series of interesting, sporty, and successful offspring.
Bostrade by Jazz is a super beautiful bay mare out of an outstanding Dutch dam line. She was awarded Ster Prok Ibop at the KWPN. Bostrade combines the best Dutch dressage bloodlines. She has been highly successful in dressage up to medium level. Bostrade has a fantastic breeding value of 157! She comes from the Fastrade line, Merrielijn 142 and the breeder family 368. Bostrade her full brother Vic by Jazz is licensed. She is characterized by her top character, which she also passes on to her foals.
Bostrade has been in breeding since 2012 and already has highly successful offspring
– colt by Rousseau (Happy Feet rider is Polish Junior Champion with him)
– filly by Davino (Illustrade is used in breeding)
– two fillies by Guradian S (Levistrade is currently M-winning)
– filly by Fidertanz (participant in the German Foal Championships in Lienen – now based in Denmark)
– colt by Dream Boy (Luxembourg) filly by Raven are in the starting blocks as young horses