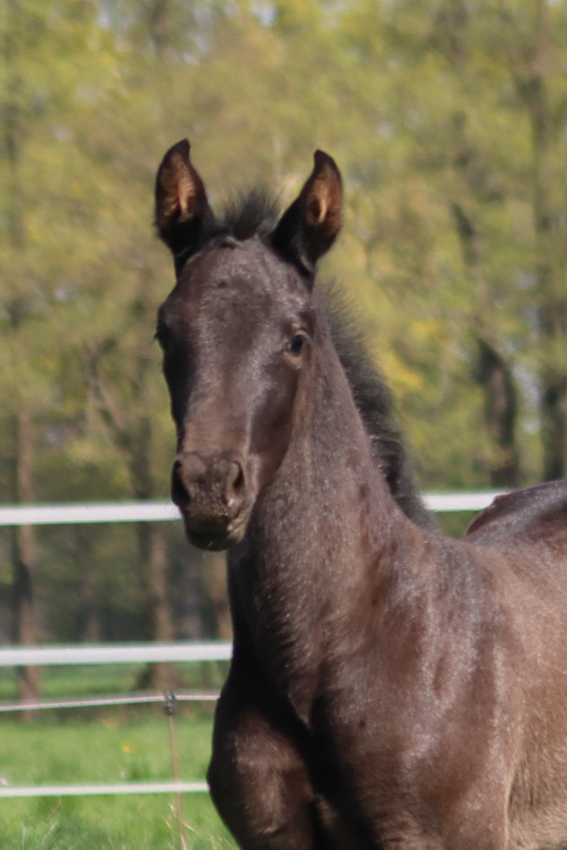 Born: 2022-03-31
Color: Black-Brown
Breeding area: Hanover
Breeder: Diane Nauman, Oregon -USA
sold in Germany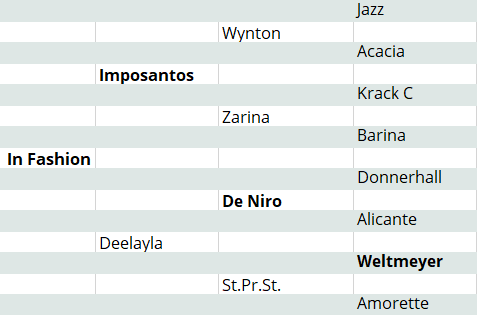 In Fashion a filly which was full of power from day one. She is black-brown, white on all 4 feet and has an enormous movement potential. In Fashion will certainly follow in the footsteps of her older siblings. We are looking forward to her future.
Deelayla is an elegant black mare from the best dam line. She combines the best German dressage bloodlines. She has been highly successful in sport, not only in dressage but also in jumping and cross-country competitions. She is characterized by her top character, which she also passes on to her foals. Deelayla is used in breeding due to injury.
In 2013 she had a filly by Spörken. "Skuderia" took an outstanding SLP as a 3-year-old and won now Dressage Class M**
In 2015 Deelayla got a top colt by Livaldon which placed 5th at the German Foal Championships in Lienen after a dream round and top scores.
In 2016 she got a black colt by Bon Coeur from W.M. Stud, who was sold to a Swiss stallion raiser.
In 2018 Deelayla got a colt Dream Boy. He is the 4th best colt at the German Foal Championships in Lienen!
In 2019 she also got a colt by Dream Boy. A chocolate chestnut as he could not have been painted more beautiful.
In 2020 Deelayla gave us a black filly by Apache. She will enrich our breeding.
In 2021 she gave us a black colt by Vitalis. A class of it's own.
Multichampion – Melting – Dynamic – Wherever Imposantos performed, he caused a stir. The list of his sporting achievements is long. In 2018 and 2019 he won the Pavo Cup, the Dutch counterpart to the Bundeschampionat. He was victorious in the KWPN Stallion Competition three years in a row. In 2019, as a 6-year-old, he was placed in the final of the World Championships for young dressage horses in Ermelo. In 2020 he was KNHS Champion and was again nominated for the World Championships for young dressage horses. In 2021 he was also able to prove his enormous quality on German tournament grounds and reached the final of the prestigious Nuremberg Castle Cup.
As a sire, he has not only caused a sensation in Holland. Imposantos was able to set the price peaks at several foal auctions. At the "Special Edition" foal auction of the Oldenburg Verband 2020, he presented an absolutely outstanding filly.
Imposantos has Grand Prix racing in its blood. His father Wynton was himself successful in international Grand Prix sport. The granddam Barina is the mother of the licensed stallion Landeur and mother of the Grand Prix horses Tarina and Warina.