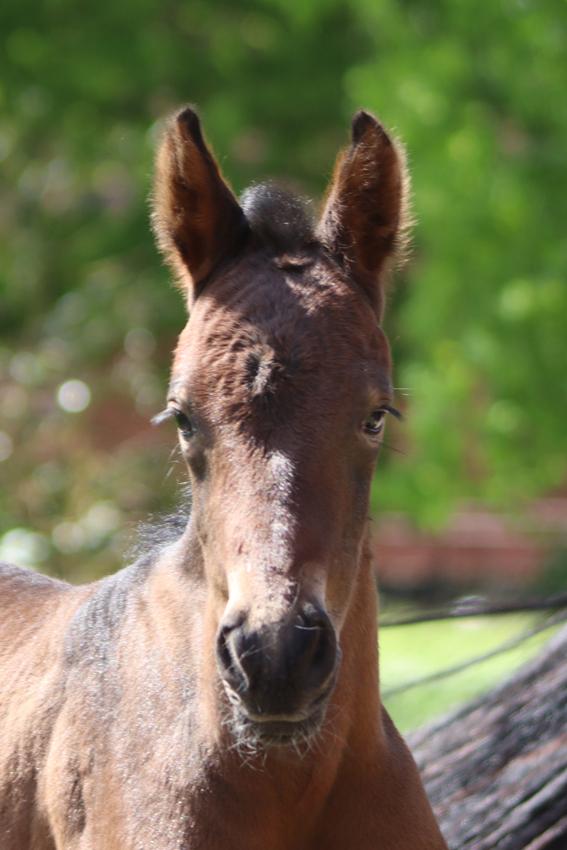 Born: 2021-05-20
Color: darkbrown
Breeding area: Hanover
Breeder: Diane Nauman, Oregon – USA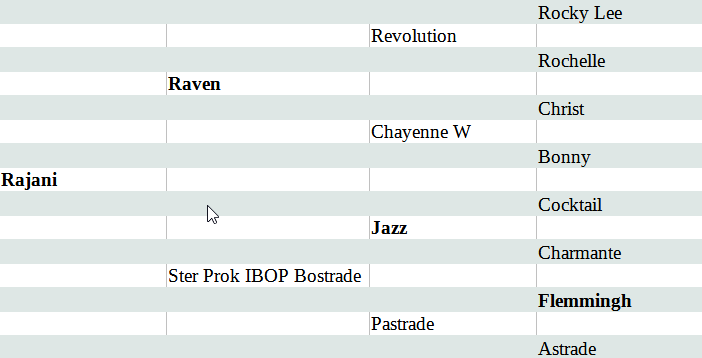 Rajani by Raven x Jazz is a picture of a filly. She has super loose movements and cannot deny her sire Raven. The dam Bostrade is highly decorated in the Netherlands with Ster Prok and IBOP awarded. Bostrade was herself successful in sport up to dressage class M. She passes on her rideability to her offspring, who are already highly successful in sport. Bostrade has a fantastic breeding value of 157! She comes from the Fastrade line and the breeder family 368, Merrielijn 142. Bostrade her full brother Vic is licensed. Rajani from Raven x Jazz – a filly for the future!
Bostrade is a super beautiful bay mare out of an outstanding Dutch dam line. She combines the best Dutch dressage bloodlines. She has been highly successful in dressage up to M level. She has a fantastic breeding value of 157! She comes from the Fastrade line, Merrielijn 142 and the breeder family 368. Bostrade her full brother Vic is licensed. She is characterized by her top character, which she also passes on to her foals. She has already had a colt by Rousseau in 2012. "Happy Feet" is very successful in Poland and became Polish Youth Champion with a young rider! In 2013 she got a filly by Davino V.O.D. and in 2016 a filly by Guradian S – which was sold to a renowned stable in Holland and is successful in competions class M in 2021. In 2017, she had another filly by Guardian S. Anky van Grunsven owns 50% by this outstanding stallion! In 2018 she got an outstanding filly by Fidertanz. Ferrara qualified for the German Foal Championships in Lienen with dream scores. In 2020 Bostrade gave us a colt by Dream Boy – a type without equal!
Raven: Blessed with high nobility attributes, the large-framed Raven embodies a high degree of athleticism and an extremely high-quality, supple basic gait arrangement, with which he was awarded the title of non-saleable premium stallion at the 2019 Westphalian licensing in Münster-Handorf. His always exemplary work attitude and constant willingness to perform should be emphasized.
The sire Revolution was a premium stallion and prize record holder in 2015, HLP winner in 2016, World Champion of five-year-old dressage horses in 2018 and Vice World Champion of six-year-old dressage horses in Ermelo (NED) in 2019. The versatile and hereditary dam's sire Christ, himself successful in the dressage ring up to advanced (S) level, presented sensational sons at the German licensing venues in recent years, including several premium stallions. The highly proven Trakehner Buddenbrock adds a special blood variant to the pedigree and the extremely versatile Werther (Hanoverian Stallion of the Year 1992) as well as the top Holstein sire Calypso II, who is also the great-grandfather of the dam's sire Christ, round off the blood picture.
Above Graphit and Gotthard, the valuable Hanoverian G-blood will be concentrated in the following generations. Raven represents the Hanoverian line 130/Anadyra I (by Angelo-Juli-Johannes-Trieglaff), which has produced such good stallions as A Conto As (PB Hess.), Abba (PB DK), Accusé (Ldb. Moritzburg), Campo Grande (Ldb. Dillenburg), Chalet's Erbe (PB Westf. ), Competent (PB Hann.), Golden Eye (PB IRL), Paganini, Premonition, Quitoll, Lustig, Sigesmund (PB Oldbg.), Wulf (Ldb. Celle) and the internationally successful dressage horse Tango Korrupti/Ina-Katrin Schmid.
We are eagerly following his first crop of foals and are happy about the feedback from the breeders. Raven was in high demand at home and abroad last year and was exempt for the HLP like all 3-year-olds as a result of Corona 2020. He will take his 50-day test in the fall of 2021. Since the stallions have only been with us since February 05, now have to complete the EU quarantine and Anna wants to get to know her charges under saddle in a relaxed manner, we have decided on the 50-day test in the fall as a "total HLP package". Raven is an exceptional stallion in charisma and movement, whose progress under saddle we follow with enthusiasm. We are convinced, here grows up a very great and his great translation will appreciate the "enough time".