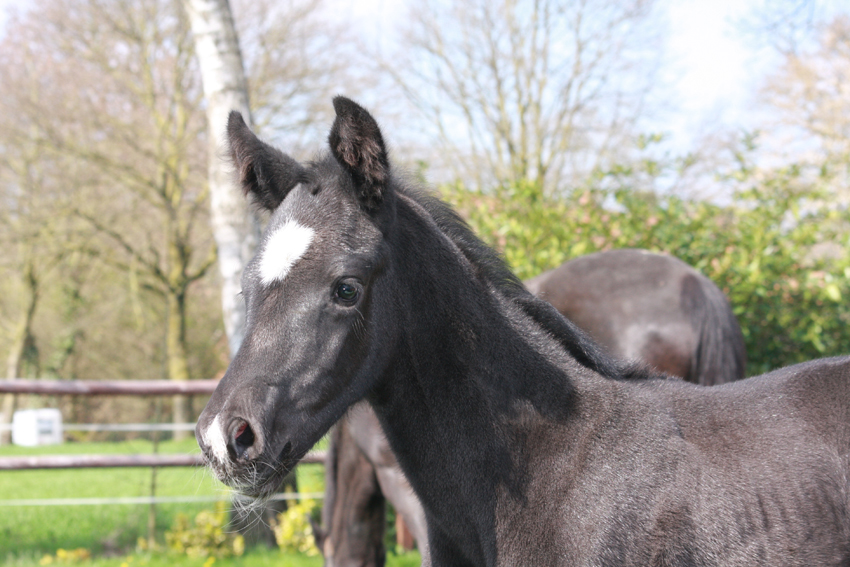 Glock's Toto Jr offspring of 2023. Our Toto Noir – colt and a class of it's own out of a De Niro x Weltmeyer mother. This foal impresses with his type and habitus. This Toto Jr offspring is super long legged, elegant and has a lot of melting. The dam Deelayla was successful in sport. She already produced the 4th and 5th best colt at the German Foal Championships in Lienen. A Spörken offspring has won dressage M**.
This Toto Jr offspring is a foal for the future!
GLOCK's Toto Jr. is the first licensed son of the legendary Totilas. In early 2014 he won the stallion performance test in Ermelo with 86 points, was victorious in the PAVO Cup 2015–16. He won the Stallion Competition in classes L and M two years in succession. In the walk, GLOCK's Toto Jr. demonstrates outstanding ground cover whilst. In the trot and canter, his light-footedness, balance and strong uphill tendency are captivating. His nature is also of outstanding quality.
GLOCK's Toto Jr. passes these attributes on to his progeny, something evident in his exceptionally positive foal report. Progeny of GLOCK's Toto Jr. have reached high prices at a wide variety of foal auctions. In 2017, nine young stallions from his first year of foals entered the second round of KWPN stallion selection. Moreover, GLOCK's Toto Jr. achieved the largest number of dressage foals of that same year with 369 registered foals. Whilst also bringing the most foals to auctions in both 2017 and 2018. With GLOCK's Taminiau and King Karim, GLOCK's Toto Jr. delivered no fewer than two of the total of eight KWPN-licensed stallions in early 2018.
The dam of GLOCK's Toto Jr., Desperada, is a daughter of Desperados. She tooks double silver medals at the 2015 European Championships in Aachen. Both the dam and the grandam of GLOCK's Toto Jr. achieved outstanding results in the mare performance tests in Germany. They were rated 10.0 for rideability by test riders.
Deelayla by De Niro is an elegant black mare from the best dam line. She combines the best German dressage bloodlines. She has been highly successful in sport. In dressage and also in jumping and cross-country competitions. She is characterized by her top character, which she also passes on to her foals. Deelayla by De Niro is used for breeding due to injury. SIBARA line, Hanoverian mare line 4191504, Schridde 824