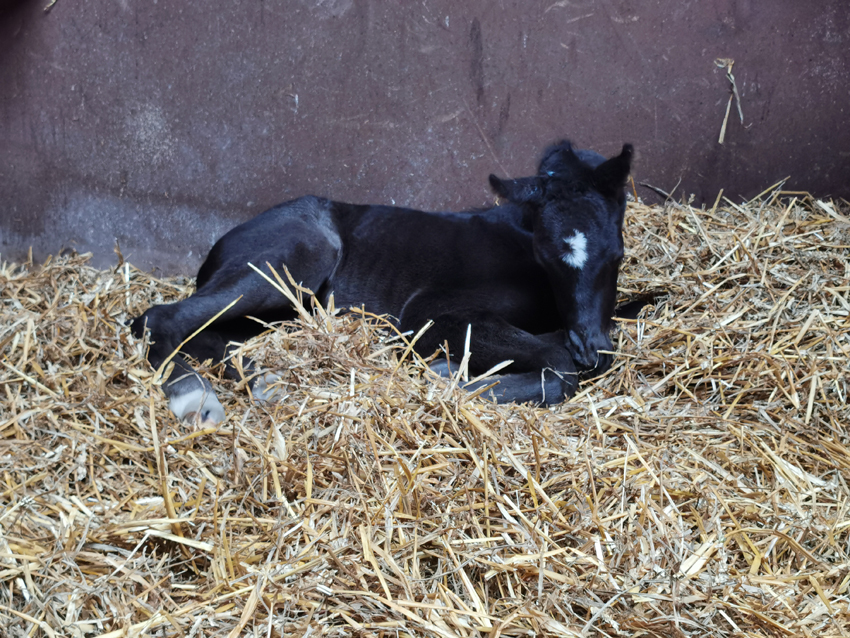 Foal by Dynamic Dream x Fürstenball born!
We are mega happy to announce that our second foal 2022 has landed safely at our barn.
Avella by Fürstenball gave us an adorable foal by Dynamic Dream. She has very long legs, has a really beautiful face and is the spitting image of Avella.
A real Avella foal!
With his first crop of foals, Dynamic Dream outshone everything else. There was hardly an auction where his foals were not highly sought-after. Here is just a small excerpt of his fabulous price highlights: at the 22nd Oldenburg Elite Auction, Der Hit was sold for 80,000 Euros, at the138thHanoverian Elite Auction, Dynamic in Black reached the knockdown price of 74,500 Euros, at the Westphalian Summer Auction, customers paid 46,000 Euros for Danseur d'Amour, at the DSP Elite Auction, the highest bid for Dynamic Diamond was 45,000 Euros and at the 64th Foal Market in Riedlingen, Die Tänzerin led the price ranking, selling for 42,000 Euros.
Dynamic Dream won his licensing in Westphalia and was sold for a record price at the Stallion Market in Münster-Handorf. The radiantly beautiful stallion also left the Danish licensing as a premium stallion and completed his 14-day test in Denmark with the expected dream scores:9.0s for trot and canter, 10.0s for willingness to perform,temperament and character.
Avella is a black-brown mare who knows how to present herself with very elastic movements. This quality of movement she passes on to her foals. The Oldenburg damline is very fertile and has produced some good sport horses in recent years.
Her first foal in 2017 was by the stallion San Amour, whose conformation was excellent.
In 2018, she got a filly by San Amour, which is like the one on her face.
In 2020 she got a colt by Franklin who knows how to present himself in every moment.